BMG Pharma in Pharmaceutical Business

BMG Pharma is a successful Italian company born in 2018 from the aggregation of BMG Pharma S.r.l. and Sigea S.r.l.
Sigea S.r.L. was a spin-off of the University of Trieste operating in the field of biopolymers and macromolecules, and it contributed to provide the Hyaluromimethic® technology and the new injectables pipeline development.
BMG Pharma is a B2B specialty pharma company specialized in development, registration and commercial partnership of innovative, state-of-the-art biotechnological products.

BMG Pharma is challenging thehyaluronic acid market. The Hyaluromimethic® technology is the innovative and patented platform for the creation of wide range of biomaterials for medical applications. Now, BMG Pharma is focalizing on the aesthetic medicine market.
BMG Pharma exploits its strong expertise in specific therapeutic areas to meet the needs of patients and provide high quality, effective and safe solutions.
BMG Pharma: headquarter and R&D Plant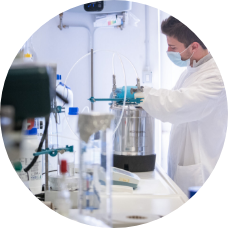 BMG Pharma is headquartered in Milan, where the company has the possibility to enlarge its collaborations both in the medical/clinical and business context.
Aware of the value of partnership, BMG Pharma meets a wide range of needs, mainly supplying finished products or product lines utilizing its unique expertise in areas such as oral care, dermatology / aesthetic medicine and osteoarthritis.
The biomaterials R&D and Production plant is in Torviscosa (UD), a city counted among the historical technological hubs of Italy and Europe, where dynamics of industrial repopulation and development are experienced.
Internationally, BMG Pharma extends its presence in more than 60 countries through its partners marketing products in Europe, the Middle East, Asia and Latin America.